My first infographic made with cAnva
I Made My infographic using the canva app. It is a free app in the iPad app store. In canva, you can create beautiful designs and professional graphics. Edit photos, add text, elements, stickers, borders, frames and more. It is fairly easy to use. If I ever have an assignment that would require something like this, this would definitely be the app I would suggest they use. I'm not sure if something like this would be an assignment in my class, but this is definitely a very useful tool. There are some limitations unless you spend extra money. And that is just part of certain apps. The strengths are many, it's easy to use, personalize, and create. In creating this infographic I struggled with the font color of my text, I was limited on size for everything. But everything kind of worked out in the end. Canva is a very fun app, but maybe, it isn't the best for making infographics, as mine does not look as good as some I found on Pinterest. Or maybe I need more practise.
Canva - Graphic Design & Photo Editing by Canva
https://appsto.re/us/hfFF1.i
Powered by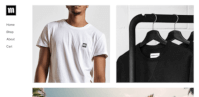 Create your own unique website with customizable templates.